Celia Bland
from "Madonna Bomb"
There are no words to describe the way she hunches
belly resting on thigh, key turned on and she cannot
turn it off, working the brake with her other foot. It's hard to see
into the distance, sitting like that.

She drives a dichotomous street,
the blood flowing in and out, birth and death, every turn
leading to this line of Hummers, the check point
where she must slow.

They will not like her duct-tape mittens
(as if her hands were very cold)
and that she cannot roll
down the window with hands stuck at 10 and 2.

Is it very hot inside her womb as she moves
faster down the street we all travel?
Does she cry, My God, my God! or merely Mary!?

(She has ever eschewed the first person pronoun,
savoring I like phosphorescence.)

It's all the same, isn't it, whether she
was dead before or after impact?

Turn the eyes of your palms --
flaccid as the maws of lilies --
up to heaven. Look to those clouds.

What passes there casts shadows
and move towards you.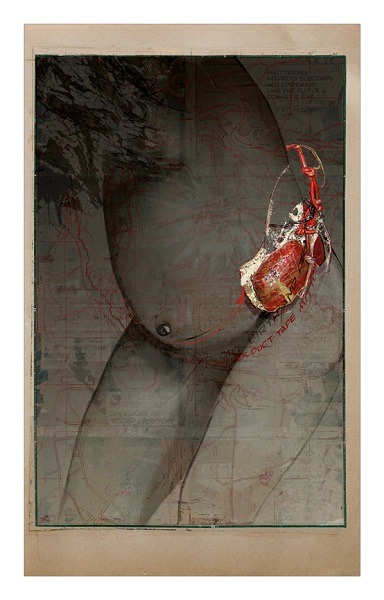 Madonna Bomb 2
Dianne Kornberg
Archival pigment print
48 x 31" Edition of 9
©2012 D. Kornberg
Rank Strangers
Underscore the rank leavings of
what outlasts flesh and blood.

Underscore the high lonesome
of my mother's agile hollering with
only heating the living room
plaster excreting mouse fur
moth-tufted chairs (more horsehair)
boxes left behind by previous inhabitants:
hand-carved shelves from Tuscaloosa,
tatted lace, beveled cartes visite of strange
pulchitudious women rigid in corsets.

Underscore the high lonesome of
fingers raining buttons snipped from
discarded clothes, buttons
pinned to skin-pale cards:
yellow ducks in sailor caps,
pearlized knobs in cookie tins.
Underscore the rank leavings of
what outlasts flesh and blood.

Maw's Maw's cedar closet:
dry cleaning plastic
a full slip and a girdle
flesh-colored stockings dangling four garters,
nude weave doubled at heel and toe.
Tissue kiss and a tar lipstick kiss.
Licking her thumb, every ten
in the clerk's palm.
Cash on the barrel.



Underscore the rank leavings.
I've called two black ladies from out
the extension, my mother says.
They pay $100 for what
they can haul. They gonna come
with plastic bags.
Keep an eye on 'em.
But the high lonesome is in my eyes
as the ladies, appalled by our house-smell
of mange and its remedy, mold kisses,
turn up and I mutter,
Take it, and sit on the warped porch as they
fill their van and finish by 2.
God be with you, they say.
And also with you.

Underscore the rank leavings of
what outlasts flesh and blood.

Open a store with Maw Maw's haul.
Call it:
Read 'Em and Weep.