Review of Circuit, by John Greiner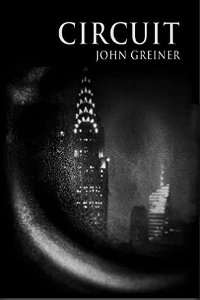 Circuit (Whiskey City Press, 2020)
You just can't read it once. And it doesn't have to be read in sequence. In fact, it's really up to you how to synchronize your pace maneuvering through Circuit, John Greiner's latest collection of poetry. Venture down parallel intersections, abundant routes where you and he excavate terrains along intimate chords. It could occur. It could happen. His tempo could speed. Or maybe not. Yours halts. You stand. You watch. A mirroring unnoticed. Recollection detected. Slippages of timeless edges. A crystalizing.
Among waves of curiosity, reflection, instinct and wit, there's a sense of ease, insight, a responsiveness that is inventive and compelling. Nothing feels preplanned or overdone. He listens and doesn't command. What draws me immediately to Greiner's work is how he allows imagery, and the poem's inhabitants, its own voice. He writes it down. There may be some conjuring, some coaxing. Once words hit the page, an intangible separation from the author sets in.
My suggestion is to read each word, each grouping, out loud. What resonates in the sound, in the vocal composition, deepens a witnessing and widens perception. Whatever occurrences may surface, whatever detours omitted, whatever junctures crossed, you the reader are more than a party crasher or a voyeur. You're a dweller, a romantic, a wanderer spurred to go further than imagined. His travels are vast. He never leaves us lost or stranded. He probes but doesn't infringe. He delves with grit undisguised. There's lust & longing & acceptance. It's almost impossible to exit without a few scratches.
Go ahead and toss a coin, shuffle that deck of cards, pick those lucky numbers, or simply make a random stop.
Flipping through, holding book upside down with one hand:
The Stuff of Cinema
Your Greenwich Village
death rimmed eyes
are the stuff of cinema
Film Forum, IFC, Quad & Cinema Village, still closed.
You have haikus scattered throughout. Want to comment?
— There are so many epics being written these days that would be better said in two sentences. This haiku was inspired by Alice Neel's portrait of documentary cinematographer Dick Bagley.
Flipping through while waiting for the next L train:
Security Job

Stay cool
the only way
to lose this job
is to lose
your mind
and I've seen
that happen
a few times
I'm sure you don't look anything like one of Duane Hanson's museum guards.
But how does it look from where you stand?
— There's truth in Duane Hanson's realism. Truth is stranger than fiction, to use a cliché. There is not an ounce of hyperbole in "Security Job". "Security Job" is a statement of an incontrovertible fact. Ask any museum guard who is willing to talk.
Flipping through, in between passing sirens:
Circuit

... the dark cosmos
if this, the something
to say that falls short,
is this, the kick,
that sends the planet
into frenzied spin.
Thesaurus: revolution, track, course, boundary, tour, cycle, gyration.
How did you land on
Circuit
for the book title?
— I look at the book as a travelogue, a lot of the journey is around New York City, but there's also Los Angeles, San Antonio, the American West and Paris. In the end the ambition is to travel beyond all locations.
Flipping through, staring at the full moon competing with holiday ornaments:
Pierogies

... I ate at B & H on 2nd Avenue
because I can no longer eat
at the Stage Diner on 2nd Avenue
before going to the Holiday Cocktail
Lounge of cigarette smoke blue clouds
I write about cheese pierogies
to remember potato pierogies
are my favorite pierogies ...
You then write about the best pierogies being the pheasant & boar ones you had in Gdansk. Did you eat them with sour cream or with fried onions?
— They were pure and unadorned. Straight, no chaser.
Flipping through, stopping, repeating 4 times, pause, stop, repeat, stop:
Wind

... I had gotten lost during
the rainy season
in the desert
and drank so many
thunderstorms
that it was hard
to rage anymore.

I accepted my start
in history.
I need to find a purpose
for this story.

She was an ember
that promised
every arsonist
that passed an inferno. ...
Often it's passing strangers that turn into characters in my own writing, or it's ones I haven't even met yet. Who sparks yours?
— All the strangers in my skull who I pass in the street. It's enjoyable to see my phantoms take on physical form. I come across them in the everyday minute that flips over onto its back in the intriguingly infinite quick pass.
Flipping through, trying to forget everything that I just heard them say:
Distance
After the end
which I had touted


with gestures
grand and disjointed,
I found
that there were more


than a few
miles left to go.

The distance


ahead
is more


than I can
conceivably travel
in this lifetime.
Words can stop time at least for a moment. But what's to be said and what's to be left untouched spins like a ferris wheel or a jukebox unplugged. A crescendoing immensity.
How do you sort through? How do you decide?
— I've come to a point in my life where it's the words and images that sort me. Sure, on occasion I will go with the straight facts, but I find it much more interesting to be led along to find something more rich than what I would have come up with myself. Like I said before; truth is stranger than fiction and so it follows that truth is also often more interesting than fiction, but now with everyone going on with their truths we're being left with really bad one note pieces in all of the arts. There's something bigger than truth or fiction and that is what I am following after.
Flipping through over & again listening to the creaks & crackles that the pages make:
Frank O'Hara

Frank O'Hara, they are tearing down the city,
and from the junk heaps and debris
there are no poems rising.
The Sculpture Garden offers
no sanctuary, nor Paley Plaza for that matter.
52nd Street would be unrecognizable to you.
Billie Holiday is still dead. ...

... Frank O'Hara, there are no Pollocks
at the Cedar Tavern
tearing restroom doors from hinges.
There are no de Koonings, Rothkos,
or Gorky's drinking into the dawn.
There is no Larry Rivers to paint
you nude with boots. ...

... Frank O'Hara, there are no curators
with eyes to see what this new millennium
has hung of the beautiful on crumbling
walls of the sufferers' cheap downtown studios.
Frank O'Hara, there are no cheap downtown studios.
The city is suffocating on itself.
It revels in its asphyxiation. ...

... I long for brutal passions
that are not cheapened by numerical value.
I long for the essence to emerge
and set right history
before history is incinerated. ...
And, "there are still poets who put pen to paper in hopes of cracking open the skull of the divine." So true. To pursue the unforeseen opening, how does that fall into motion in our current context?
— The artist needs to be open to the art. The art is what leads, not the artist.