[ Foro de Escritores ] [ next ]

Interview: Brian Whitener and Martínez Gómez

Brian Whitener: What was the origin of the Foro de Escritores? How does this tie into your personal history?

Martínez Gómez: First, I don't represent the FDE. I don't speak on behalf of anyone here. The FDE is a space and not an institution with a definite form or principles. It is the people who attend each of its activities, and no more. In this instance, it's just me, but that's a rare occasion, as there are others who are not speaking now, who exist and are fundamental for the health of the project. If they were speaking here, I'm sure the FDE would be something altogether different.

In my view, in its origin the FDE is completely inspired by the work and spirit of Bob Cobbing's Writers Forum (WF), which is a group of poets that has been performing and publishing poetry in London for half a century now. A few of us knew this project, worked in it in London, so for us it has a meaning as an origin, which may not be salient for many other poets and artists that participate in this project.

For me, the experience of attending those reading and performance open sessions in London was absolutely crucial to my development as a writer. After coming back to Chile after some years studying in London, a group of us here decided to start a Writer's Forum-style project here in Santiago. We even used the same name for it, translated into Spanish. We weren't at all interested in covering up the origin of the project.

The core feature of the WF, the one that changed my whole approach to poetry, was the recognition of the diverse elements that come into play in any writing practice, such as language; the voice and the body; and space, the visual image and sound. Apart from this, the London the sessions in themselves were motivating, because you had to come with something to show and to read your pieces in front of an audience of highly qualified people. During my time there, there were a number of very goods poets in attendance, like Lawrence Upton, Sean Bonney, and Mike Weller. You have to prepare yourself with a lot of care to participate in something like that. And one learns a lot from people like them. That type of experience is what we didn't want to lose after leaving London, so we reproduced it in a, let's say, Chilean way.

BW: What are the goals, motivations, desires behind the Foro? How have they changed over time?

MG: The only goal is to have an open space for poets and artists to gather together every three or four weeks in a pub in Santiago (the Rapa Nui bar in the Providencia area) to show to other poets and artists their work, what they are doing or making at that moment. In that sense it is a workshop.

Most of the collaborators have a common interest in language and an interest in exploration—in some cases reckless exploration of forms, formats, and media. These shared points of interest haven't changed much in these 3 years but their intensity and orientation fluctuates all the time.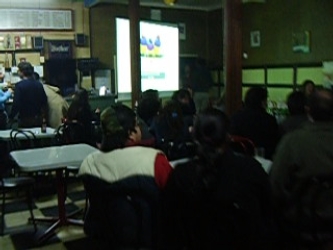 [FDE at the Rapa Nui Bar]


BW: How does the Foro work in practice? How often does it meet? Are there rules? What does a typical meeting look like?

MG: During a session of the FDE workshop the poets perform, play or show their work, one by one, 5 to 10 minutes at a time, while the rest watch or listen to them in silence. There is also silence between performances. Occasionally some clapping. Nobody chairs the session. There is no aesthetic direction. Nobody decides what's good or bad. Lessons come directly from the works themselves and every style of poetry is welcome. Sometimes the sessions look like meetings around a table, or around several tables put together, others they look like happenings, video exhibitions, or small concerts.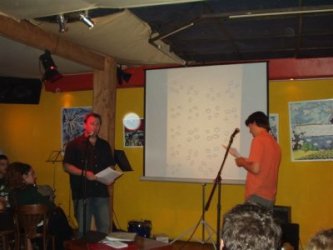 [Martín Gubbins and Andrés Anwandter, 2003]


BW: Who can participate? How many people have participated? How has the group and its work changed over time? Is there more participation now by artists, filmmakers, videomakers? What about the exhibitions? How are those run? Has the Foro participated (as a group) in other projects?

MG: Anyone can participate. It's open and free. Hundreds have participated over these three years. Poets mainly, but also artists of many sorts.

Nothing is properly "run" in the sense of event production or something like that. There's no budget or administrative hierarchies. Things are done thanks to individual and spontaneous efforts from the people involved in the sessions, who are different on each occasion.

The FDE, even though is not a group or collective, has participated as a group in events organized by others, including readings, exhibitions, concerts, and performances.

For instance, a group of "FDE poets" (even though there's no such a thing) was invited to the first Biennal of Sound Art done in Chile, in 2005, organized by the National Museum of Beaux Arts (Reverberancias was called). We've also been invited to perform at the Chilean Museum of Contemporary Art, and at many universities, galleries and clubs in Chile and abroad.

Apart from these activities, which are more linked with the art world, we've worked together with musicians doing performances and concerts at the Modern School of Music in Santiago and other venues.

The FDE was also chosen for the Soundlab project, which is a sonic art project directed by the German sound artist Agricola de Cologne. In its edition04.a., Chilean artists were included, among them the Foro de Escritores.

Readings we've given many, at many places in Santiago and Valparaíso in Chile, also in Córdoba, Argentina; as well as in different venues in London and Paris, such as Birkbeck College, BookArts Bookshop, The Klinker and others. Martín Bakero, a Chilean poet who lives in Paris, is organizing an FDE tour through Spain, France, Belgium, the Netherlands and the UK for 2008 or 2009.

Those are the type of activities we participate in.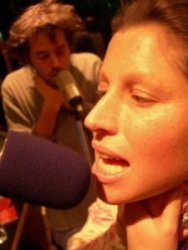 [ Anamaría Briede and Gregorio Fonten in Performance]


BW: Is there any theorization of the Foro's practice? A thinking of it as a collective or thinking of the importance of interdisciplinary artistic practice? Or something else?

MG: Interdisciplinary artistic practice is certainly one of the characteristic features of the work that is shown within the FDE, though theorization is left for the conversations after the sessions.

However, sometimes the work of important artists and poets, both living and deceased, is shown and introduced to the group in a session by collaborators who are part of a new type of university teachers here in Chile who also both practice poetry and are open to new forms and daring projects of all kinds (Felipe Cussen is one of them), so they are discovering authors and works all the time. Sometimes they or others bring that kind of "discovered" work and books or recordings or whatever and show some examples of that to the rest. And a dialogue may start thereafter. Or it may not. It depends. Joan Brossa has participated in the workshop in this mediate way. Eduardo Scala. Irwing Weiss. Alan Riddel. Tom Raworth. Guillermo Deisler. Just to name a few.

BW: Can you situate the practice of the Foro in Chile for us a little bit? Are there similar things happening in Chile or South America? What position does the Foro occupy within Chilean or the literary life of Santiago? What kind of relationship does the Foro have with other groups or other writers in Chile? And outside Chile? Do people who work with the Foro also publish or perform or exhibit in other venues?

MG: I would say that in Chile the FDE is an accepted rarity of some weight with a relative success within the diverse circle of a few.

I don't know other projects like it in South America, but I'm sure there may be some somewhere.

What I know is that outside Chile the FDE has contacts with many artists, poets, editors and academics. There is a quite varied group of people that's interested in the things we do here at the FDE in Santiago (you for example!).

This happens for two reasons, the first is that some of the poets that use to collaborate with the FDE have studied or lived abroad; and the second is that we give away as gifts to foreign writers a large number of our publications, at least 30% of the copies. This distribution method is fundamental to create links with other people that is interested in similar approaches to creation and to poetry-making and editing, which necessarily creates friendships and mutual knowledge, which is very very stimulating and critical to the project.

BW: Much of the work coming out of the Foro seems to be working within or a least cognizant of the visual and concrete poetry traditions. Is this an explicit point of reference for the Foro? Would it be wrong to read the Foro within this tradition? Is there differences between the Foro and this tradition for you?

MG: Chile is a conservative country in every level, including poetry. That two poets have received the Nobel prize, for a small country like this, is amazing and can sometimes can freak young poets out. And don't forget that we could have at least four Nobel prizes in Chile, if you include Vicente Huidobro and Nicanor Parra in addition to Pablo Neruda and Gabriela Mistral.

Poetry is serious business here, and poets are very protective of their activity and tradition. Poetry is an important Chilean tradition, and poetry is an important activity here. So it's not easy to start making noises or sketching visuals and to then be considered a "poet" in this country.

There are many many spaces here where conventional forms of poetry are shown and practiced, the FDE included. In reality, the majority of the work shown at the Foro de Escritores is very conventional.

You wouldn't imagine how many poets there are in Chile. Good conventional poets I mean. But poets exploring other paths—for instance those started but not completely explored by the concrete-oriented movements that appeared in the 1950s—those you'll find that almost exclusively at the FDE.

Hence, the true particularity of this space/project is that together with conventional work, you'll find performance, sound and visual poetry, video poetry, animations, etc, etc, which in most of the cases is practiced by the very same poets that also write more conventional poetry. Anwandter, Bustos and Folch for instance (just to name three, because there are many others), have published excellent books of (proper) poetry; they have received prizes for that work and are known mainly for that work. But they are quite daring and unpredictable artists when they attend the FDE sessions… Others have a career in music, like Gregorio Fontén, a composer who published his first book of visual poetry in college when he was 17, or Sebastián Vergara, one of the best young Chilean musicians who's participated in some FDE activities. Anamaría Briede has an interesting career in the visual arts, and Javier Tlum is starting his. Luna Montenegro is a performer (see her project with Adrian Fisher, another collaborator of the FDE, at http://www.mmmmm.org.uk/ ). And there are some very young too, taking their first steps. That mixture of people is usual at the FDE.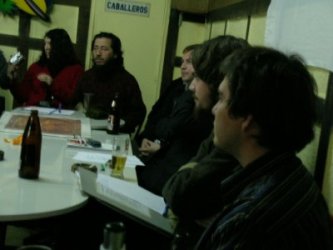 [FDE Workshop, 2005]

BW: Where's the Foro going? What can we look for in the future?
MG : It's impossible to answer this.
The FDE is truly essentially unpredictable. Every activity undertaken is unpredictable and unfinished. It is always a workshop. It is always a process of probing, testing, trial and, many cases, error.
I hope it'll continue. I really hope there'll still be minds and energy to keep it alive and growing.
Notwithstanding, I'm sure there'll always be people for whom it will be stimulating and important for their development as artists the simple experience of sharing their work with others who've also got interest in pure exploration.